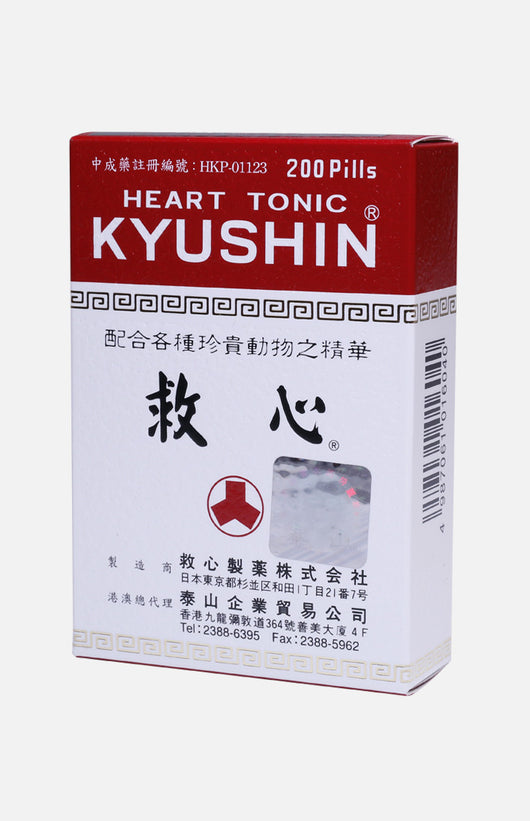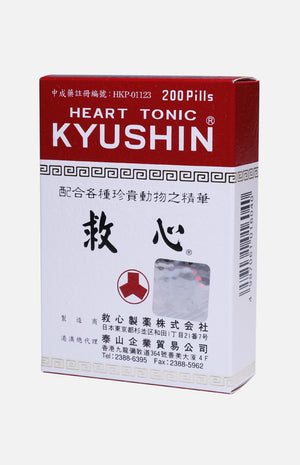 KYUSHIN Heart Tonic (200 Pills)
KYUSHIN
公價貨品
Regular price $1,226.00 HKD $1,226.00 HKD Sale
Highlight :
With the seal of approval of the Ministry of Health and Welfare of Japan, and the only imported heart medicine in China that possesses the Certificate of Registration of Imported Medicines.
Suitable for people concern about the energy of heart and the cardiac function
Ingredients :

Oriental Bezoars (The Japanese Pharmacopoeia), Toad Venom (The Japanese Pharmacopoeia), Ginseng, Powdered Velvet Horn, Saiga Antelope Horn, Animal Bile, Pearl, Borneo Camphor
Spec.: 200 pills/box, 15mg/pill Usage and dosage: Adults--2 pills each time, 3 times daily for mild and middle-degreed patients; increase to 4 pills each time, 3 times daily with discretion for serious patients. The limit of daily dosage is 12 pills. It should be administered with lukewarm boiled water in the morning, after supper and before going to bed. Expiry date: 5 years. The specific date on the real object should be considered as final. Please follow the instruction on the product.
Never use it together with digitaloid cardiac stimulants.
Cannot be used for patients with peptic ulcer or chronic colitis.
The right goods are with herringbone-shaped " kyushin " mark, and the embossed cardboard packing.
A fake-prevention label is attached to the seal of the outer box, and the label becomes red when hot, and turns blue when cold.
There is a 3D security hologram label with laser numbering on the front package.
Information is for reference only. Refer to the instruction that comes with the product for details.
Hong Kong Registration No.: HKP-01123
---