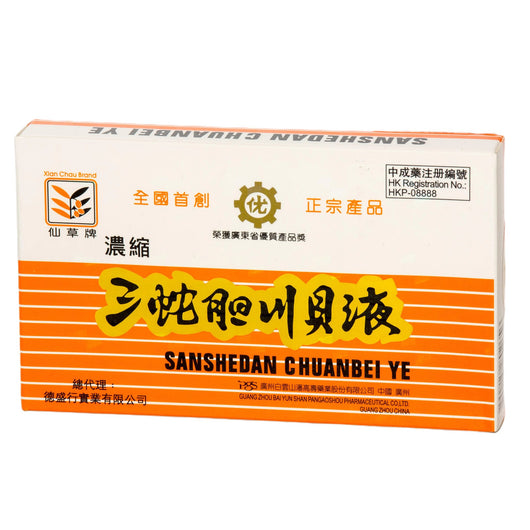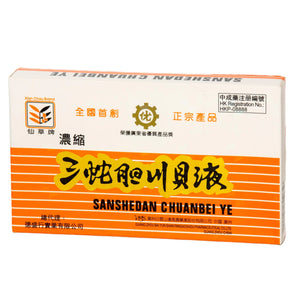 San She Dan Chuan Bei Ye
仙草牌
Regular price $68.00 HKD $68.00 HKD Sale
Highlight :
Efficacy Dispelling wind, eliminating phlegm, antitussive, dispelling stagnation. It is suitable for wind-heat cough, phlegm cough, shortness of breath, heart depression, and phlegm discomfort
Hong Kong Registration No.:HKP-08888
Ingredients :
Three Snake Gall, Fritillaria
每件數量: 10毫升 x 6支/盒




儲存方式: 密封, 置陰涼處




使用方法: 小兒每日半支,每日二次,成人每次一支,每日二次,溫開水送服




原產地: 香港




優點 : 祛風止咳,除痰散結; 用於風熱咳嗽,痰多,氣喘和胸悶.



Quantity per piece: 10ml x 6 sticks/box
Storage method: sealed, in a cool place
How to use: Take half a bottle a day for children, twice a day, one bottle for adults, twice a day, take with warm water
Country of Origin: Hong Kong
Advantages : Expelling wind and relieving cough, eliminating phlegm and dispelling stagnation; used for wind-heat cough, excessive phlegm, asthma and chest tightness.
Attention: If condition is not improved, consult a medical doctor.
Above information is for reference only. Please refer to the instruction for details.
Hong Kong Registration No.:HKP-08878
---