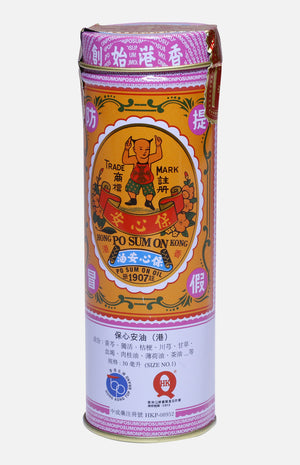 Po Sum On Medicated Oil Size 1 (30ML)
Po Sum On
Regular price $0.00 HKD $57.00 HKD Sale
Highlight :
This product can serve as the relief of :
Minor pains and aches of muscles or joints associated with simple bruise and sprain.
Ingredients :
Scutellaria Root, Liquorice, Dragon's Blood(Daemonorops Draco), Cinnamon Oil, Peppermint oil, Camellia Oil etc.
Mild headache and dizziness due to motion sickness
Chest discomfort associated with bronchial cough.
Mild abdominal pain and discomfort induced by chill.
Itching associated with insect bites.
Spec.: 30ml/bottle
Usage : Apply 1/4 ml to 2ml to the affected area according to its size. Gently massage it every 3 hours, 4 times a day
Expiry date: 3 years. The specific date on the real object should be considered as final. Please follow the instruction on the product.
Information is for reference only. Refer to the instruction that comes with the product for details.
Hong Kong Registration No.: HKP-08952
---